The AXIS Information
Best known for hosting Britney Spears' residency show (voted the best show in Las Vegas!), The AXIS is an indoor music arena that is located at the Planet Hollywood Resort & Casino on the Las Vegas Strip.
It was originally opened on July 2, 1976 as part of the Aladdin Hotel, replacing the golf course, which was rarely used, and the venue's first act was Neil Diamond, who was paid $750,000 for five sold out shows. The 1970s and 1980s saw many popular bands playing at the venue, with it becoming a mainstay of the Strip. In 1998, the venue closed while the original Aladdin Hotel was collapsed.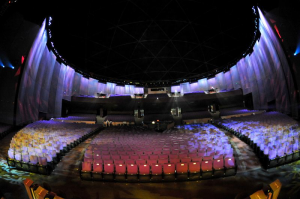 Renovation work took place and the venue was reopened in 2000 with Enrique Iglesias performing. More renovation work happened in 2013, specifically for Britney Spears' residency stint, which brought the venue to public attention once more.
The theater was the host of the Miss Universe 1991, 1996, 2012 and 2015 pageants, several Miss USA pageants, and several Miss America pageants. Its capacity has changed over the years, with the venue holding 7,500 people from 1976-2000, 7,000 people from 2000 and 4,600 people for residency shows.
Nightlife options at Planet Hollywood Resort & Casino include Heart Bar, the elegant KOI Lounge, the celebrity hangout Extra Lounge and the Playing Field Lounge sports bar. The venue is also near the Miracle Mile Shops, located in Planet Hollywood, with more than 170 stores selling everything from clothing to souvenirs.